Dear Colleagues,
I dedicate this address to my Guru, My Mentor and My God Father Dr R. Sundararajan, DM, an eminent Neurologist, Trichy who over the years have moulded me to be a humanistic psychiatrist. It's always in my mind that our fellow physicians have supported me, uplifted to this state, I must be indebted to all of them.
I also record my gratitude to our senior psychiatrists Dr. Nambi, Dr. C. Ramasubramanian and other fellow psychiatrists for their constant encouragement and guidance.
My friendship with fellow physicians has always fascinated me how they could work non-stop with enormous stress, that too, with a smiling face. They usually ask me to advise regarding mental health issues. But they will not acknowledge that they have either depression or anxiety.
One of our Medical officers had Bipolar Disorder in 1999, he had a manic episode, treated well but switched to depressive phase very early and was suicidal. I advised for Electro Convulsive Therapy for which the family didn't agree and lost for follow up. One day the family brought him to our hospital with attempted hanging, but he had already gone to coma and subsequently anoxic encephalopathy. He was in a vegetative state for three years before he passed away. This has made a profound impact on me.
Even since the COVID-19 Pandemic, our colleagues are enduring heavy psychical and emotional exhaustion and also putting their life at stake. As a socially responsible psychiatrist, I had messaged to all IMA members about my desire to help them.
Now, I get frequent calls from our colleagues about their mental health issues. Hence I decided to present this topic as my address in the annual conference of Indian Psychiatric Society- South Zonal Branch, 2020.
WHO ARE WE?
We are the guardian angels chosen by God to society, to serve the ailing people, to bring smiles on the faces of suffered souls. We are a family of 11.59 lakh persons in a population of 136.6 crores in India. I frequently remember that advertisement "Owner's pride, Neighbour's envy". The whole community respects us and envious of us that they couldn't get the degree we have.
To them, we are GOD, God's representative, saviour, one who have lighted lamp on their lives. As a Doctor, we have chosen the path to work hard, ever-smiling, empathetic, risk our life and sacrificed personal & family happiness and never let our emotions to affect our service.
But these attributes put pressure on us directly or indirectly. While ever-growing research and discoveries save millions of people, there is also an ongoing change in the climate of our professional life.
The concept of family doctor has changed to consultants. Along with service, commercialisation has crept in—people's attitude towards us is also changing. Now we are consumers and answerable to even unwilingful human errors while delivering treatment. We can be punished by law, with heavy penalties and the license to practice can be suspended.
Majority of doctors are clustered to the urban area leading to unhealthy competition. We are under the service of non-medical persons as we have come to corporate hospitals.
Though medical practitioners could increase the life expectancy of the nation, our quality of life has not improved. But on the other hand, we doctors are facing enormous trauma, public orchestration, violence and also to budge to political systems.
Now its time to unite together, save ourselves and help our fellow physicians. Indian Medical Association, Indian Psychiatric Society and other speciality associations are striving to empower us & protect us. But, a lot has to happen in safeguarding the mental health of medical practitioners.
EPIDEMIOLOGY OF MENTAL ILL HEALTH IN PRACTITIONERS
Research from all over the world suggests that Medical Practitioner's (MP) have high rates of mental health problems ranging from depression, anxiety, substance abuse, misuse of prescription drugs, and emotional exhaustion and suicidal attempts.
In the United Kingdom, 10 to 20% of doctors become depressed at some point in their career and have a higher risk of suicide than the general population (1).
In Canada, a study using an objective measure of emotional exhaustion revealed that 80% of physicians were suffering from burnout (2).
In the United States, studies have found high suicide rates in doctors (3) and high rates of prescription drug use, particularly opiates and benzodiazepines (4).
In New Zealand, it has been suggested that mental health problems are nearly three times as prevalent in general practitioners and surgeons than in the general population (5).
In a study from a tertiary care hospital of North India found that 30.1% of resident doctors found to have depression, and 16.7% had suicidal ideations, up to 90% reported some level of burnout. (6)
The suicide rate for doctors has been variably estimated at between two and five times the rate of the general population. (7)
In a systematic review, Lindeman et al. estimated physicians' relative suicide risk at 1.1–3.4 for men and 2.5–5.7 for women compared with those for the general population. (8)
In an American study on surgeons, only 26.0% of the surgeons with suicidal thoughts had sought help, while the rest were reluctant to seek help because of concern that it could affect their medical license. (9)
In an Australian survey, Thoughts of suicide are significantly higher in doctors (24.8%) compared with the general population (13.3%) and other professionals (12.8%). Psychiatrists and non-patient specialities (where doctors do not come in direct contact with patients) had higher rates than other specialities.
RISK FACTORS
Age
There appear to be high rates of mental ill-health among young doctors and interns. A prospective study from England found a significant increase in depressive symptoms during a medical internship with over a quarter of the participants meeting the criteria for depression during training compared to just 3.9% before the internship. (10) These future practitioners are at high risk of recurrence of depressive disorders and prone to substance abuse.
Gender
Most studies report that female doctors are significantly more affected than men concerning depression, anxiety, and burnout, while the latter is more into substance use, prescription drug abuse. Lady physicians have been successful in their carrier when they are independent.
The Speciality
Each speciality has a unique level of stress, for example, a physician or a surgeon has long working hours, unpredictable night shifts, facing a crisis in casualty, often have to handle themselves when their junior staff are not in time, facing agitated caregivers in ER and breaking bad news.
Burnout is found mainly in emergency medicine, trauma, physical medicine and family medicine.
Specialists who travel to neighbouring districts for services return late, neglecting sleep and family.
These add to early exhaustion, less time to update, feels monotonous and less recreation. Often they indulge in substance use or prescription of drugs to get adequate sleep to do the next day's job.
Psychosocial environment :
The psychosocial work environment is another risk factor for MPs developing a psychological illness, increased workload, long working hours, unpredictable shifts, problematic relationships and conflicts with seniors, colleagues and junior staffs, workplace bullying and lack of cohesive teamwork. (11)
Substance Abuse
Medical professionals are also prone to abuse of various substances and develop substance-use disorders. Studies have shown a high prevalence of nicotine dependence and use of other substances such as alcohol, cannabis, benzodiazepines and opioids too. (12)
Prescription Drug Abuse
Easy availability, knowledge about the potential effects, mechanism of drug action, and way to use it are the reasons. Over a while, they may have consequences of the substance use example cognitive slowing with prolonged use of benzodiazepines, which they are little aware of.
Alcohol Abuse
Alcohol use, alcohol abuse and dependence pattern among medical professionals are equal to that of the general population, while the treatment compliance and psychological approach differ.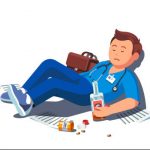 There are no consistent data of alcohol dependence among physicians (13), while hazardous drinking among the medical student population is up to 46.5% with three times more among men than women. (14)
Stress of breaking bad
Many stressors involved in the profession are unique to MPs such as they are routinely faced with breaking bad news, frequent contact with illness, anxiety, suffering and death. (15)
They have to face the patient's emotional reaction, caregiver's anxiety, listen to their distress, emotional let out and take time to soothe them. (16)
Workplace violence
Together with high expectation showered on the doctors, adding unrealistic pressure on doctors and when failed verbal or even physical aggression. Thus a doctor-patient – caregiver relationships was found to a key predictor of depression in the former (17).
A nationwide cross-sectional study conducted from November 2019 – April 2020 across India
found up to 77.3% of doctors faced Workplace violence & common reasons were no improvement or deterioration of the patient's condition or perceiving unfair treatment given.
The victims (doctors) reported "loss of self-esteem", "feeling of shame" and "Stress/depression/anxiety/ideas of persecution" after the incident, this resulted in a decrease in management by surgical interventions, handling emergency or completed cases. (18)
Personality Traits
Certain personality traits of the MPs such as being an increasing self-critical, perfectionist, desire to please everyone, excessive sense of responsibility, guilt for things outside of one's control, self-doubt and obsessive-compulsive traits prone the individual into guilt, and depression. (19)
The combinations of individual personality traits, workplace stressors and individual vulnerability create an array of psychological symptoms.
To continue Part-2/4 Click here:
References
Firth-Cozens, J. (2006). A perspective on stress and depression. In J. Cox, J. King, A. Hutchinson & P. McAvoy (Eds.), Understanding doctors' performance (pp. 22–25). Oxford: Radcliffe Publishing.

Thompson, W.T., Cupples, M.E., Sibbett, C.H., Skan, D.I., & Bradley, T. (2001). Challenge of culture, conscience, and contract to general practitioners' care of their own health: a qualitative study. British Medical Journal, 323, 728–731.

Frank, E., Biola, H., & Burnett, C.A. (2000). Mortality rates and causes among US physicians. American Journal of Preventative Medicine, 19, 155–159.

Hughes, P.H., DeWitt, M.D., Baldwin, C. Jr., Sheehan, D.V., Conard, S. & Storr, C.L. (1992). Resident physician substance use, by speciality. American Journal of Psychiatry, 149, 1348–1354.

Dowell, A.C., Hamilton, S., & McLeod, D.K. (2000). Job satisfaction, psychological morbidity and job stress among New Zealand general practitioners. New Zealand Medical Journal, 113, 269–272.

Grover S, Sahoo S, Bhalla A, Avasthi A. Psychological problems and burnout among medical professionals of a tertiary care hospital of North India: A cross-sectional study. Indian J Psychiatry 2018;60:175-88.

Suicide in doctors: a study of risk according to gender, seniority and speciality in medical practitioners in England and Wales, 1979-1995. Hawton K, Clements A, Sakarovitch C, Simkin S, Deeks JJ J Epidemiol Community Health. 2001 May; 55(5):296-300.

A systematic review of gender-specific suicide mortality in medical doctors. Lindeman S, Laara E, Hakko H, Lonnqvist J Br J Psychiatry. 1996 Mar; 168(3):274-9.

Special report: suicidal ideation among American surgeons. Shanafelt TD, Balch CM, Dyrbye L, Bechamps G, Russell T, Satele D, Rummans T, Swartz K, Novotny PJ, Sloan J, Oreskovich MR Arch Surg. 2011 Jan; 146(1):54-62.

Brooks, Sam & Gerada, Clare & Chalder, Trudie. (2011). Review of literature on the mental health of doctors: Are specialist services needed?. Journal of mental health (Abingdon, England). 20. 146-56. 10.3109/09638237.2010.541300.

Quine, L. (2002). Workplace bullying in junior doctors: A questionnaire survey. British Medical Journal, 324, 878– 879.

Seshadri S. Substance abuse among medical students and doctors: A call for action. Natl Med J India 2008;21:57-9.

Brewster JM. Prevalence of Alcohol and Other Drug Problems Among hysicians. JAMA. 1986;255(14):1913–1920. DOI:10.1001/jama.1986.03370140111034

Gerstenkorn A, Suwała M. Problem medyczno-społeczny spozywania alkoholu w grupie przyszłych lekarzy [Alcohol use by future physicians–medical and social problem]. Wiad Lek. 2003;56(9-10):402-6. Polish. PMID: 15049202.

Schildmann, J., Cushing, A., Doyal, L., & Vollmann, J. (2005). Breaking bad news: Experiences, views and difficulties of pre-registration house officers. Palliative Medicine, 19, 93–98.

Bennett, J., & O'Donovan, D. (2001). Substance misuse by doctors, nurses and other healthcare workers. Current Opinions in Psychiatry, 14, 195–199.

Firth-Cozens, J. (1998). Individual and organisational predictors of depression in general practitioners. British Journal of General Practice, 48, 1647–1651.

Kaur A, Ahamed F, Sengupta P, Majhi J, Ghosh T. Pattern of workplace violence against doctors practising modern medicine and the subsequent impact on patient care, in India. PLoS One. 2020;15(9):e0239193. Published 2020 September 18. doi:10.1371/journal.pone.0239193

Harvey, S.B., Laird, B., Henderson, M., & Hotopf, M. (2009). The mental health of health care professionals: A review for the Department of Health. London: National Clinical Assessment Service.